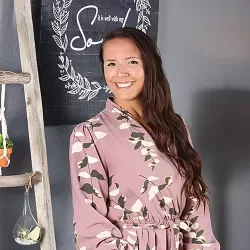 Hi there! My name is Kacie Cheairs and I am a Licensed Professional Counselor (LPC). I am committed providing clients with quality care through empathic understanding and thoughtful intervention. I strive to build the therapeutic relationship through a collaborative process to help equip clients with the necessary tools needed to achieve a more fulfilling life.
I know that no two clients are the same, and I take each clients individuality into account when building rapport and developing a treatment plan for lasting change. I am very passionate about conveying myself as a non-judgmental and open therapist to allow my clients to feel safe and comfortable while working with me.
I strive to be culturally competent and respect the unique backgrounds of each of my clients. Ultimately, I am dedicated to making a positive impact on each of my clients lives and will do my best to ensure each client leaves treatment feeling better than they did before.
I obtained my Bachelor of Behavioral Science degree from Hardin-Simmons University where I was a member of the Three-Time ASC Conference Champion Volleyball Team. Concluding my undergraduate career, I obtained my Master of Science degree from The University of North Texas in the Clinical Mental Health Counseling program.
My background as a student athlete is what encouraged me to pursue a career as a therapist. It was during that time that I discovered how important it is to take care of not just our physical health but our mental health as well. As a collegiate athlete, I have first-hand experience in the navigating the transition from high school sports to the college level, which can be overwhelming and leave you feeling unprepared.
Not only did it take a physical toll on me, but I was not prepared for the mental stress of college sports in addition to my academics. Let me help you navigate this transition so you can be better prepared for what lies ahead of you.
I also work with clients who suffer from various mental health disorders such as anxiety, depression, bipolar, and substance abuse disorders, phase of life issues, relationship stressors, women's emotional health issues and those with concerns regarding vocational development.
I have worked in both a private practice setting and on The University of North Texas campus at the counseling center. When I am not working, I love spending time with my two dogs and exploring various nature trails in the area. I like to play sand volleyball with friends on the weekends, and travel when I can to visit and spend time with my family.
---
Insurances Accepted
Self-Pay Fees
$150 intake session
$125 per session