Working One-on-One with a Trained Therapist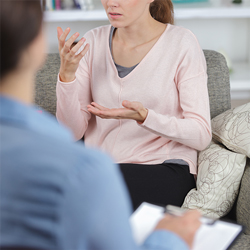 I am dedicated to treating the concerns that you bring to therapy. Whether you bring your family, your relationship, or yourself, our goal is to help you achieve the change that you are hoping for.  With the world ever changing and moving at increased speeds, we can often feel like we are getting pulled in many directions. This can be stressful for teens and adults alike.
Although life can be pretty amazing at times, it can also be pretty stressful. Individual counseling can be an effective approach for making healthier choices and positive life changes or simply navigating rough patches. I am committed to working with you to bring about the long-term changes that you need, want and deserve.
Individual therapy (sometimes called "psychotherapy" or "counseling") is a process through which clients work one-on-one with a trained therapist—in a safe, caring, and confidential environment—to explore their feelings, beliefs, or behaviors, work through challenging or influential memories, identify aspects of their lives that they would like to change, better understand themselves and others, set personal goals, and work toward desired change.
Sage Minds Counseling
Helping You Meet Your Recovery and Wellness Goals
Sage Minds Counseling in Sachse, Texas offers a wide range of counseling and therapy options designed to help individuals and families reach their whole health goals. Some of these options include individual counseling, family therapy, group therapy, Dialectical Behavior Therapy (DBT), and Eye Movement Desensitization and Reprocessing (EMDR) therapy sessions.
As a fellow mental health professional, I have collaborated with Jennifer on many client cases. I have always been struck by her dedication to providing evidence-based therapy, her commitment to her clients and her ability to connect with therapy resistant teens.
I have known Jennifer for a long time and she is a great person to talk to. If you need family counseling, group therapy, or individual counseling you should reach out to her.
Sage Minds Counseling helps families and individuals of all ages
by providing counseling and wellness services that foster healing, inspire growth, and renew hope.