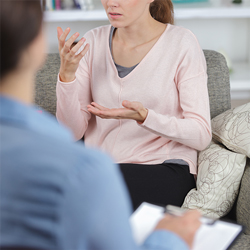 At Sage Minds Counseling, we are dedicated to treating the concerns that you bring to therapy. Whether you bring your family, your relationship, or yourself, our goal is to help you achieve the change that you are hoping for. Our counselors can respond to your concerns objectively, offer a comforting word, and give you sound advice to help you live a better life.
With the world ever changing and moving at increased speeds, we can often feel like we are getting pulled in many directions. This can be stressful for teens and adults alike. Unfortunately, we don't always feel comfortable talking to the people in our lives.
When we're feeling overwhelmed, our emotions, worries, and stresses can seem like too much to unload on our friends, family members, an acquaintance, or even a close co-worker.
Although life can be pretty amazing at times, it can also be pretty stressful. Individual counseling can be an effective approach for making healthier choices and positive life changes or simply navigating rough patches. I am committed to working with you to bring about the long-term changes that you need, want and deserve.
The Power of Talk Therapy
Individual therapy (sometimes called "psychotherapy" or "counseling") is a process through which clients work one-on-one with a trained therapist—in a safe, caring, and confidential environment—to explore their feelings, beliefs, or behaviors, work through challenging or influential memories, identify aspects of their lives that they would like to change, better understand themselves and others, set personal goals, and work toward desired change.
Therapy can help people overcome obstacles that hinder their well-being by increasing positive feelings, such as compassion and self-esteem. Therapy can also be used to learn skills for handling difficult situations, making healthy decisions, and reaching personal goals. 
Who can Benefit from Individual Counseling?
Individual counseling is tailored to the specific needs of the individual, which means it can be beneficial to almost anyone. An individual's current needs will dictate the treatment plan, though this could change over the course of therapy. When we struggle with our emotional or mental health, it can be all-consuming, leaving little mental energy for other areas of our life.
Whether you're coping with grief or psychological trauma, handling depression or career dissatisfaction, or simply seeking to improve your general outlook, individual counseling from the licensed professional counselors at Sage Minds Counseling can provide some form of healing. Along the way, we can likely identify unhealthy behavioral patterns you may not even be aware of, so therapy can help you grow as a person, too.
Included in the myriad of issues we handle are:
Mental health issues
Eating disorders
Substance abuse
Grief
Trauma recovery
Anger management
Career choices
The experienced and compassionate counselors at Sage Minds Counseling can provide you with a solid support system and invaluable insights on how to heal from your emotional wounds, mental health problems, and behavioral issues. Whether you are in a relationship, a parent, or an individual looking for success and happiness, we will help you become better at your role and achieve your goals in life.