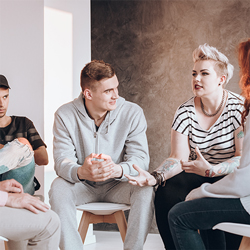 Sage Minds Counseling offers group therapy designed to target specific problems. Groups brings together individuals for the safe exchange of differing viewpoints. It alleviates the feeling of being alone and creates supportive bonds.
When people come into a group therapy setting and interact freely with other members in the group, they usually recreate those difficulties that brought them together in the first place. Some people attend individual therapy in addition to groups, while others participate in groups only.
Joining a group of strangers may sound intimidating at first, but group therapy provides benefits that individual therapy may not. Counselors say, in fact, that group members are almost always surprised by how rewarding the group experience can be.
Benefits of Group Therapy
Group Therapy has the benefit of giving clients someone to talk to. It can create a new way of looking at difficult problems, and help people move towards a solution. Groups can act as a support network and a sounding board. Other members of the group often help you come up with specific ideas for improving a difficult situation or life challenge such as:
Overcoming Past Trauma
Healthy Coping Mechanisms
Improved Relationships
Purging Bad Habits
Achievement Of Goals
Under the direction of Counselor Jennifer Hughes, the group is able to give each other support, offer alternatives, and comfort the other members of the group in such a way that difficulties become resolved and alternative behaviors are learned. Our group therapy sessions promote an open and accepting community that welcomes all.
Regularly talking and listening to others also helps you put your own problems in perspective.
Targeted Group Counseling
Each group counseling session is scheduled as needed. Talk to us if you are wanting to join any of groups.
Middle School Teen Girls Support Group
High School Teen Girls Support Group
Dialectical Behavior Therapy (DBT) Skills Group
Non-Suicidal Self Injury (NSSI) Group
Many groups are designed to target a specific problem, such as depression, obesity, panic disorder, social anxiety, chronic pain, substance abuse or addiction. Other groups focus more generally on improving social skills, helping people deal with a range of issues such as anger, shyness, loneliness and low self-esteem.
Looking for a Dialectical Behavior Therapy (DBT) Therapist? Although we may employ a variety of treatment modalities to assist our clients in reaching their goals, Dialectical Behavior Therapy (DBT) is considered the Gold Standard for many mental health disorders. If you are specifically looking for Dialectical Behavior Therapy (DBT), we offer individual and/or group skills sessions for teens, families and adults.