Group Therapy
Safe Exchange of Differing Viewpoints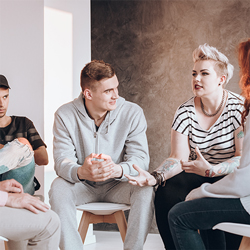 Groups brings together individuals for the safe exchange of differing viewpoints.  It alleviates the feeling of being alone and creates supportive bonds. When people come into a group therapy setting and interact freely with other members in the group, they usually recreate those difficulties that brought them together in the first place. Under the direction of Counselor Jennifer Hughes, the group is able to give each other support, offer alternatives, and comfort the other members of the group in such a way that difficulties become resolved and alternative behaviors are learned. Our group therapy sessions promote an open and accepting community that welcomes all.
Each group is scheduled as needed.
Middle School Teen Girls Support Group
High School Teen Girls Support Group
DBT Skills Group
Looking for a DBT Therapist? Although I may employ a variety of treatment modalities to assist my clients in reaching their goals, DBT is considered the Gold Standard for many mental health disorders. If you are specifically looking for DBT, I offer individual and/or group skills sessions for teens, families and adults.
I have extensive experience and training in the area of NSSI (Non-Suicidal Self Injury). I have individual and group sessions available for this population.
See More Services
Sage Minds Counseling Helps Families And Individuals Of All Ages
By Providing Counseling And Wellness Services That Foster Healing, Inspire Growth, And Renew Hope.