Family Counseling
Couple and Family Therapy Services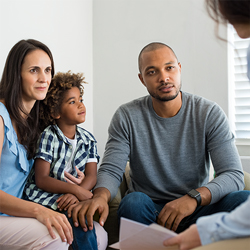 Do you need help for yourself, your relationship, or your family? It's common knowledge the teen years can be hard on the parent/child relationship. Insecurities, social expectations, peer groups and emotional health are just a few of the plethora of issues teens deal with on a daily basis. Let me help break down these barriers and create a meaningful relationship between you and your child.
Family therapy is a service that helps individuals and families cope and heal from issues like trauma, grief, substance abuse, depression and anxiety. I am experienced at evaluating the structure of many different family systems and offering interventions to facilitate healthy and positive changes that benefit the emotional well-being of all family members. I am dedicated to providing the highest quality individual, couple, and family therapy. 
See More Services
Sage Minds Counseling Helps Families And Individuals Of All Ages
By Providing Counseling And Wellness Services That Foster Healing, Inspire Growth, And Renew Hope.