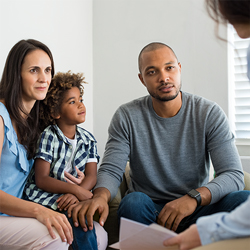 Family therapy is a service that helps individuals and families cope and heal from issues like trauma, grief, substance abuse, depression and anxiety. We are experienced at evaluating the structure of many different family systems and offering interventions to facilitate healthy and positive changes that benefit the emotional well-being of all family members.
At Sage Minds Counseling, we are dedicated to providing the highest quality individual, couple, and family therapy. Family counseling aims to promote understanding and collaboration among family members in order to solve the problems of one or more individuals.
Counseling can help you understand and manage whatever life throws at you, and how to do it successfully. We believe that you have the strength not just to survive, but to truly thrive. We specialize in helping people identify and achieve their personal goals by coping with the issues that are causing anxiety and stress.
The Benefits of Family Counseling
Families can benefit from therapy when they experience any stressful event that may strain family relationships, such as financial hardship, divorce, or the death of a loved one. In addition, it can be effective in treating mental health concerns that impact the family as a whole, such as depression, substance abuse, chronic illness, and food issues, or everyday concerns, like communication problems, interpersonal conflict, or behavioral problems in children and adolescents.
Overcoming Past Trauma
Healthy Coping Mechanisms
Improved Relationships
A Sounding Board
Purging Bad Habits
Achievement Of Goals
Learning how to deal with these issues and grow together as a family makes seeking help beneficial. Through family counseling or family therapy, we can enhance our communications, learn to effectively resolve problems, reduce family conflicts and deepen empathy and emotional connection.
At times, some family members will indicate that they are not interested or don't believe in counseling. It may be helpful to explain the potential benefits and how they can address their specific family concerns to overcome initial resistance. The goal of family therapy is to improve family dynamics, create positive emotional atmosphere and develop healthy communications which lead to improved satisfaction of each individual member.
Helping The Entire Family
The needs of every family member will affect the roles and rules of the entire family. If one member has unresolved issues that they can't effectively communicate with the others, it can strain the relationships within the family and can make the home an uncomfortable place for some or all family members. As a result, our family members' decisions, disabilities and hardships typically affect everyone.
From the children to the parents, our counselors are experts in handling personal issues that may come as sensitive or complicated. Included in the areas of concern that we can help manage are the following:
Inconsistent parenting
Introduction of new members to the family (remarrying, adopting)
Divorce of parents
Substance abuse of either parent
Abusive behaviors of parents
Anger management (parents and children)
Conduct disorders of children
Mental health issues of both parents and children
Lack of communication between parents and children
Intense sibling rivalries
Effects of a recent loss
Trauma recovery